Camera Critters #116
After far too long, I'm back on line. Can't spend hours on here anymore because it sets off violent migraines. I've always loved this photo meme and want to get started posting weekly for it.
My entry for this week is our newest baby. She was an 18th birthday present for my daughter from one of her godmothers. She is the sweetest little girl, but lives up to her name - Athena. She is truly a master huntress! She stalks Darth Mittens and Aphrodite. She'll hide under the desk or a chair and when one of us will walk by, she immediately pounces on our feet and start nibbling. KITTENS!!! We do love her very much. She's been with us since Memorial Day and has added much laughter, love and fun to our lives.
She carries a juice bottle cap around in her mouth and will play soccer with it for hours.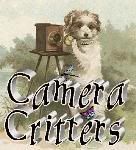 Labels: animals meme, Athena, Camera Critters, kittens, photos