Camera Critters #132
Once again, it's that time of week when I get to show off my favorite models - animals!!!
My choice for the day are several beauties from Pennsylvania's elk herd located in Benezette. This is the largest free ranging elk herd east of the Mississippi.
While I was there for the ribbon cutting on the brand new multi-million dollar elk viewing area, I found a buck and his harem of cows. They always strike me as the most beautiful animals when I see them. I never get tired of the magic of seeing these huge animals up close. I know they're wild and unpredictable, so I try to respect that and stay far enough away to just observe them and not try to turn them into petting zoo inhabitants.
If you want to see other examples of critters around the globe, just click on the following badge.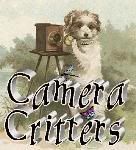 Labels: animals meme, Camera Critters, photography