Camera Critters #129
Sunday is here again, so it must be time for my favorite photo meme - Camera Critters!
I think mascots count as critters, so my offering for this week is Ike the Spike (State College Spikes' mascot) with me at the last Thursday game of the season. The Spikes are a minor league baseball team. It was a good game, what I saw of it. I was on deadline and had to write up the coverage of an arson court case. I had my laptop and sat there for the first 4 innings writing.
If you want to see other examples of critters around the globe, just click on the following badge.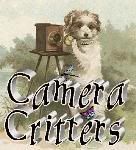 Labels: animals meme, Camera Critters, photography