Camera Critters #128
Another week has flown by and it's time for my favorite mem, Camera Critters!
These photos were taken at Busch Gardens VA. They do lots of shows where visitors can interact with animals. This little owl was one of my favorites. The eagle was one they showed, but wouldn't allow the public a chance to hold it. Pity.
If you want to see animals from around the globe, stop by Camera Critters' main page and find nearly a hundred links.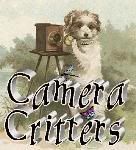 Labels: animals meme, Busch Gardens, Camera Critters, photography