Camera Critters #127
Another week has passed and it's time for the ever-popular Camera Critters meme. This week, I'll share another photo from our trip to Busch Gardens, VA. With yesterday being such an important day for America in a very bad way, I want to show our symbol that brings us together.
For more animals from around the globe, pop over to Camera Critters headquarters. Just click on the badge below and you'll be automatically directed to the page.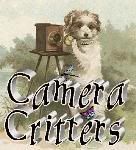 Labels: animals meme, Busch Gardens, Camera Critters, eagle, photography